Revisiting—or in a few cases, watching for the first time—and celebrating the work of Michelle Pfeiffer, the best actress of my lifetime.
We all have to start somewhere, right?
Thank your lucky stars you didn't start with
Delta House
like Michelle Pfeiffer did. In 1979, her first major screen work (after a brief appearance on an episode of
Fantasy Island
the previous year) was on this atrociously bad and unsurprisingly short-lived sitcom/cash-grab—remember, it was spun out of the previous year's mega-hit film
Animal House
. In a cast of painfully juvenile and misogynist frat boys, she played a character named, and I kid you not, "Bombshell." Is it any wonder she went on to spend her career resisting attempts at pigeonholing her based on her looks.
Yes, I've seen several episodes of this series. And yes, it's as awful as I'm describing it. I actually watched it a bit in reruns back in the 1980s, and let me tell you, it's as bad now as it was then. The fact that I've rewatched a few episodes on YouTube shows you the magnitude of my Pfeiffer pfandom, and the absurd lengths I'll go to for it. I'll let you decide whether that's admirable or just straight-up crazy.
Pfeiffer spends most of her scenes fulfilling the role's fairly limited requirements: smiling sweetly at the buffoon boys all around her while, in keeping with her character's name, looking hot.
The token hot blonde
was all the rage
back then
, and the eighties and nineties would only see an
increase in the popularity
of this
character type
. Pfeiffer never fit this mold, though. She was creating her
own
mold, and promptly shattered it so there would be no imitators. In hindsight, the show was a terrible misuse of the legendary Ms. Pfeiffer, but these were early days—her first role!—and it would take a little time before Hollywood started to not only understand what she had to offer, but harness it in a series of roles worthy of her talents.
Her big break,
Grease 2
, was still three years away. In
Delta House
, some of the signs pointing towards future greatness are there, but you have to look closely. We're supposed to find the men on the show funny, even though they're pathetic quips are consistently groan-worthy. As the hot blonde, Pfeiffer's Bombshell dutifully nods and smiles along, but if you pay close attention, you might see a subtle reveal, a faint glimmer of the possibility of an eye roll—she knows these clueless dolts are beyond hopeless. Even in a role this uninspired, her soulful, intelligent eyes show us a performer worth watching. Pfeiffer was hip to this garbage, even then.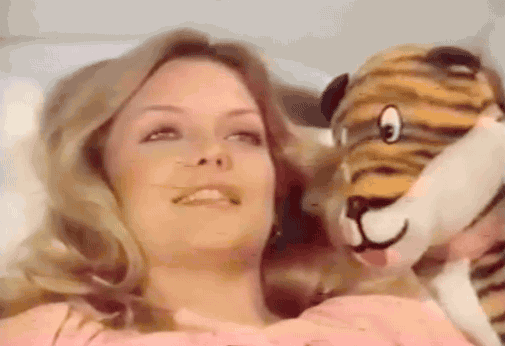 I'll leave you with this, Michelle's final scene in the series, just her and a sad little stuffed kitty who resembles some combination of Tony the Tiger and Chester the Cheetah. This scene closes an episode she's spent fending off the advances of yet another pathetic college kid with delusions of grandeur (seriously, none of the doorknobs on this show could ever date Michelle), and it's the very first solo moment on screen for her, ever—she's not sharing camera time with anyone, unless you count Tony/Chester. It's a fitting way to end her first role, just Michelle and a cat. You can almost see her imagining future feline successes (Hello,
Selina Kyle
), as if she knew she was better than this turkey of a sitcom. She was gonna be all right. In fact, she would be more than all right.