Ranking my top five Catwoman performances in film and television.
Click here for the previous entry in the Catwomen rankings.
1. Michelle Pfeiffer, Batman Returns (1992)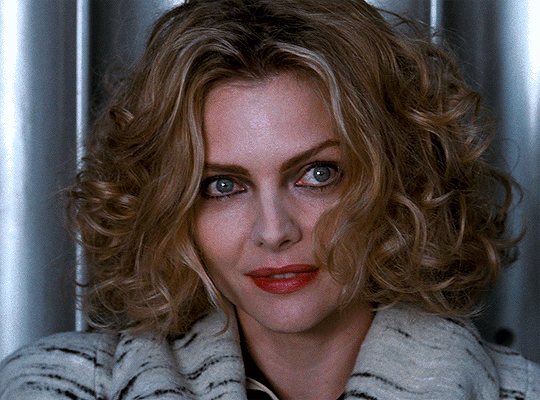 As a young girl, I was completely obsessed with Catwoman. When I heard that Tim was making the film and Catwoman had already been cast, I was devastated," says Pfeiffer. "At the time, it was Annette Bening. Then she became pregnant. The rest is history. I remember telling Tim halfway through the script that I'd do the film, that's how excited I was.
That's Michelle Pfeiffer, discussing her momentous turn as Catwoman in Tim Burton's
Batman Returns
(1992), from a
2017 interview with The Hollywood Reporter.
It's important to remember, we were
this
close to never having Michelle's transcendent performance
.
Annette Benning was cast and about to begin filming when she found out she was pregnant. After she dropped out, Pfeiffer squeezed into the black latex
and the rest is cinematic/pop culture history.
The truly amazing part about her work here is she's actually giving two separate and entirely distinct performances—one as Selina Kyle and one as Catwoman. She masterfully melds them together so that we still see aspects of Selina in Catwoman and vice versa.
As Selina she's a timid field mouse, lost amidst the insanity of Gotham City. Pfeiffer does such an incredible job of revealing Selina's pain through her biting, self-deprecation—"Honey I'm home! Oh wait, I'm not married." That performance alone is All-Time Great. Then she transforms into Catwoman, extroverted and fierce, and completely dominates the movie from then on—"Please. I wouldn't touch you to scratch you."
Pfeiffer also lovingly honors Julie Newmar's fabulous work on the character in the 1960s Batman series, using it as her foundation, then creating something truly unique.
Without Newmar, after all, Pfeiffer's Catwoman might have been very different, at least, or not even been given the chance to exist at all. Pfeiffer's performance is in many ways a sort of postmodern radical feminist extension of Newmar's. That's no surprise, because Pfeiffer has talked openly about her great appreciation for Newmar's work with the character.

The fact that one actress, Michelle Pfeiffer, brought two such diametrically opposed personalities to life in the same movie makes this not only the best Catwoman in film or television, but also one of Pfeiffer's most memorable, defining, and truly astonishing performances. No offense whatsoever to Benning, but there's no way she would've left as large an imprint on the greater culture had she played the role. No way.
Pfeiffer was born to play this part—actually, make that "parts." Her level of commitment for the role is the stuff of legend. She moved with uncanny grace and athleticism in a suit so constricting that she could barely breathe. She became so proficient with Catwoman's whip, that she was able to do all of her own stunts with it. For goodness sake, she put a live bird in her mouth and held it there for several beats! She created one of the most iconic and enduring performances in the history of film.
Simply put, she will always be my Selina Kyle, and my
Catwoman.
You can read more of my gushing over Michelle Pfeiffer as Catwoman here, and here.