Looking back at the pop culture mainstays of this Gen-Xer's gloriously misspent youth.
Some actors slide in and out of our periphery, costarring in one film or series after another, each of which briefly crossed our radars at some point. Bronx-born actress Tanya Roberts was one such performer for me.
She knew how to wear a strategically placed loincloth better than most.
I grew up on a steady diet of
Charlie's Angels
reruns, and no offense meant to Shelley Hack, but when Roberts took over for Hack in the fifth and final season, I definitely took notice. Not to focus on her looks, but geez, her gorgeous feathered hair and sultry bedroom eyes were impossible to ignore. Tanya Roberts had a look, and even all these years later, it basically defines the 1970s/early 1980s for me.
Friend to monkeys everywhere, expert falconer, and, once again, strategically placed loincloth wearer extraordinaire.

From The Love Boat to Fantasy Island to Silk Stalkings, she made the rounds on some serious preteen and teen television favorites. She also was a pleasant addition to many films I was discovering on cable or VHS during those years, including The Beastmaster (1982, Fingers (1978), and Tourist Trap (1979), and Sheena (1984). Then, there she was again, as Donna's impossibly smoking hot mom, Midge, in That '70s Show. I seem to recall the term MILF gaining popularity in the broader culture at some point during that show's run, and while I can't say for certain, I'm more than willing to give Roberts credit for being the inspiration for that acronym.
Spoiler: I rooted like heck for Roberts' character to survive Tourist Trap, and for a moment it almost seems like she might. Nope.

People don't often talk about Roberts as a serious ac-TOR, but I think what I appreciated most about her (besides those eyes, of course), was her loose, relaxed performance style. She was a calming presence in much of her work, a glamorous, startlingly beautiful figure, just gliding along, in no particular hurry to get anywhere. I love how in the backwoods horror romp Tourist Trap, she's both laconic in the face of danger and utterly determined at the same time. It's a weird dichotomy, but Roberts tended to pull it off pretty well.
A quick search of IMDb shows she hasn't acted since 2005. That's a shame. But back in the day, she was all over the place, at least in my experience. Today is her 63rd birthday. 63? No way.
That's the thing with actors of our youth. We tend to continue to see them as ageless, probably because it allows us to ignore our own slow march through the aging process.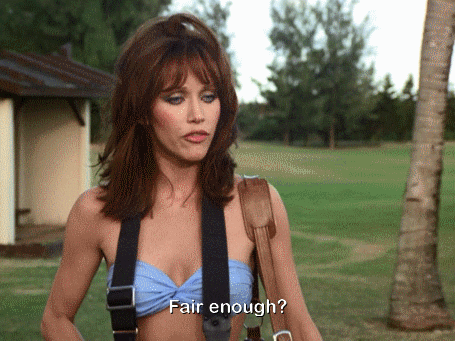 Happy birthday to one of the mainstays of my misspent, Gen-X youth.
Packing heat: Even Roberts couldn't save Charlie's Angels from cancellation.
James Toback's Fingers is an oppressively disturbing (not to mention fairly misogynist) cult film that is nevertheless incredibly powerful. Roberts' bathroom scene with Harvey Keitel is unforgettable.
Publicity shot from A View to a Kill.
This issue was likely a big seller on newsstands back in 1982.
Roberts was delightfully eccentric and always a hoot on her last major work, That '70s Show.
A participating post in the
October Birthdayz Blogathon.